Learn how conflict starts, how to resolve it, and how to find the opportunities hidden within it.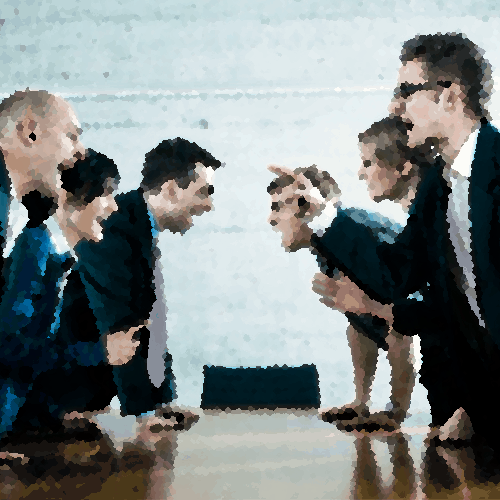 If you are human, and you engage with other humans, you will experience conflict. How often it occurs and at what level of intensity will differ wildly, but no one permanently eliminates conflict. At PERSPECTIVES, we have learned that disagreements and opposing opinions are not "if," they are "when," and that's OK! You see, we also know how you react or respond will determine whether they can be turned into something productive – brilliantly creative even – or become something detrimental.
As a leader, research shows you spend more than 50% of your time dealing with different forms of conflict. It can be easier to ignore communication problems, personality conflicts, resistance, and territorial disputes, than to deal with them directly.  We get that. Heck, we've been there too. Unfortunately, when ignored, challenging personalities and issues tend to get stronger, louder, and even more destructive. They also deliver a hefty cost.
Some of the costs of lingering conflict:
Reduced productivity
Deficient collaboration
Lost trust in leadership
Increased sick-days
Turnover of high-potential talent
Litigation
Our The Truth About Conflict training is always interactive, thought provoking, behavior changing, and fun. What you'll gain from this program:
A whole new perspective on conflict
An understanding of your go-to conflict style, different options, and when alternative styles are the most beneficial
How to identify the real root of conflict and effectively resolve it
How to uncover and seize the opportunities hidden within conflict
The truth is, conflict provides incredible opportunities to learn, create, develop, and transform.  We use our real-world experience as leaders, professional mediators, and communication specialists to show you how to respond wisely, rather than react regretfully.
…Just minutes after leaving the conference, I experienced a work-related conflict. It wasn't pleasant, but the silver lining is I used it as my first opportunity to apply some of the practices you introduced. It is working out much better than I would have expected, so I'm happy to report my real-life success story to you! Thank you! "  – Josh. U.S. Department of Interior.
Contact us today for more information or to schedule your group training.