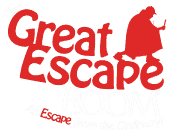 We've teamed up with The Great Escape Room to present a new game-changing opportunity for our corporate clients. Involve your team in our ½ day ultimate learning experience: The Truth About Conflict™
This ½-day group training experience will teach your team to view conflict from a whole new perspective. It's fun, of course! Your team will also head back to work with new language, understanding, and skills for turning conflict into opportunities.
Did you know, leaders spend as much as 50% of their time on conflict?
Have you ever considered how much conflict is costing your organization?
The truth is, conflict provides incredible opportunities to learn, create, develop, and transform. Through this one-of-a-kind learning experience, your team will learn:
A whole new perspective on conflict
An understanding of individual conflict styles, new options, and when alternative styles may be more effective
How to identify the real root of conflict and effectively resolve it
How to uncover and seize the opportunities hidden within conflict
How it works:
Step 1:
Your team will get 2 hours of expert, game-changing training on conflict resolution, how to identify conflict-styles, & how to identify and resolve the root causes of conflict.
Step 2:
Your team will get 1 hour to practice what you all have learned in THE GREAT ESCAPE ROOM.
Step 3:
After working together for an hour in the escape room, your team will get a 30 minute debrief and discussion to "put it all together".
Don't wait any longer! Call us today and get on your way to greater teamwork, creativity, collaboration, productivity, unity, and trust!
"…just minutes after leaving the conference, I experienced a work-related conflict. It wasn't pleasant, but the silver lining is I used it as my first opportunity to apply some of the practices introduced in your workshop. It is working out much better than I would have expected, so I'm happy to report my real-life success story to you! Thank you!" – Josh. U.S. Department of Interior