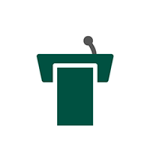 Our team of accomplished motivational speakers at PERSPECTIVES is available to bring energy and insight to your conferences, meetings, and other significant company gatherings. We distill the information from our group training workshops to create keynotes that convey impactful messages for a larger audience.  Keynotes delivered by Karen Pelot and her team are always motivating, informative, and interactive.
Our most popular Motivational Keynotes include:
Your Mindset: Is It Making You or Breaking You?
The Truth About Conflict: Understand It, Resolve It, and Turn It Into Opportunities!
Want More Success? Emotional Intelligence Required
True ColorsTM: The BEST time you will ever have learning about yourself, and how to most effectively work with the people around you!
Communicate With Influence and Integrity
Book now for your next leadership conference, association meeting, or team meeting. We guarantee your group will be glad you did!
Our founder, Karen Pelot, is a bestselling author whose
book on public speaking
has helped transform executives into powerful presenters, and supported professionals on their path to career growth. She and her team at PERSPECTIVES use the best practices shared in her book to deliver inspiring and memorable content, to professional audiences.
Call or email us today to discuss your goals for your upcoming event.