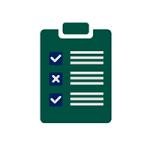 Diagnosis Before Treatment Recommended!
We believe, in order to provide impactful training and development that results in positive change, you must begin with an accurate assessment. That's why we combined our more than 60 years of leadership, communication, conflict resolution, personality assessment, and organizational development expertise, to design the best individual and organizational assessment tools and analysis.
Don't leave leadership effectiveness and organizational success to assumptions or one-size-fits-all training. Our online and in-person assessments get straight to the root of your problems, and identify your most meaningful areas of opportunity.
We designed our assessment tools to effectively provide a high-level perspective, as well as drill-down into team dynamics. When complete, we won't leave you hanging with a pile of data, but no concrete plans for improvement… We review our analysis reports with you and explain our conclusions. Then we collaborate and consult with you to develop a plan of action that will lead you to greater success!
360 Leadership Assessment:
Our spot-on 360 leadership assessment is differentiated by its unique ability to measure Emotional Intelligence, as well as expected key business acumen for leaders such as:
Communication effectiveness
Change management
Conflict management
Problem solving
Planning & prioritizing
Collaboration
Behavioral alignment with core values
Personal Accountability
The PERSPECTIVES' 360 Leadership Assessment is the best at identifying individual strengths and developmental opportunities for leaders, regardless of experience levels or tenure.  Our assessment analysis reporting gives you the roadmap you need to invest your time and resources on targeted, individualized, leadership skill development.
Organizational Assessment:
Like our 360 leadership assessments, our organizational assessments are designed to identify your organization's strengths and areas of opportunity. During your assessment, we identify key elements of success, common themes positive and negative, and the areas of opportunity that will most positively impact your level of success:
Communication effectiveness
Conflict management
Alignment with core values, mission, and strategic goals
Trust in leadership
Commitment to improvement
Clarity of objectives, expectations, and measures of success
Accountability for results
Emotional Intelligence
Loyalty
Don't muddle through with less than your best any longer! Call us today and begin your journey to:
Greater efficiency
Effective leaders
A culture of collaboration, unity, and trust
Clarity of goals and expectations
Increased accountability
Recruitment, retention, and development of key talent
A better experience, and better results, for the individual and as an organization
PERSPECTIVES' ASSESSMENTS ARE GUARANTEED TO BE CONFIDENTIAL, TIMELY, AND IMPACTFUL.